The second quarter of 2019 has a much different look compared to Q2 of 2018. In this post, we can see what's been happening in the single-family home market in Hillsborough County and South Tampa. Notice there's quite the difference between each type of respective market. Here's what you need to know.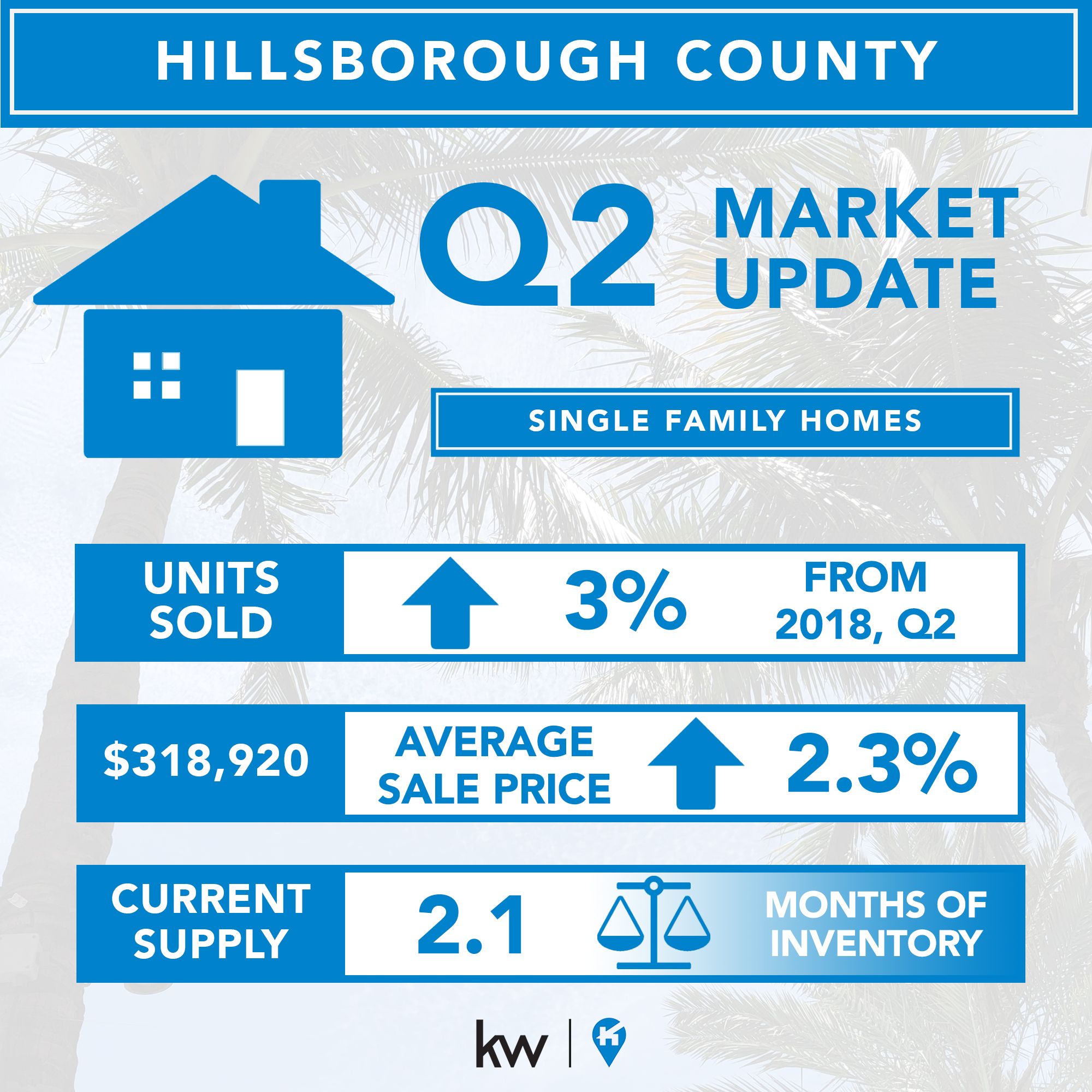 Hillsborough County – Real Estate Market Update; 2019 Q2
First, let's look at the single-family home data for Hillsborough County. The number of units sold increased by 3% from Q2 of 2018. The average sale price increased by 2.3% from Q2 of 2018 with a current sale price average of $318,920. The current supply (at the time of this article publication) of single-family homes is 2.1 months of inventory. Six months of inventory is considered a balanced market.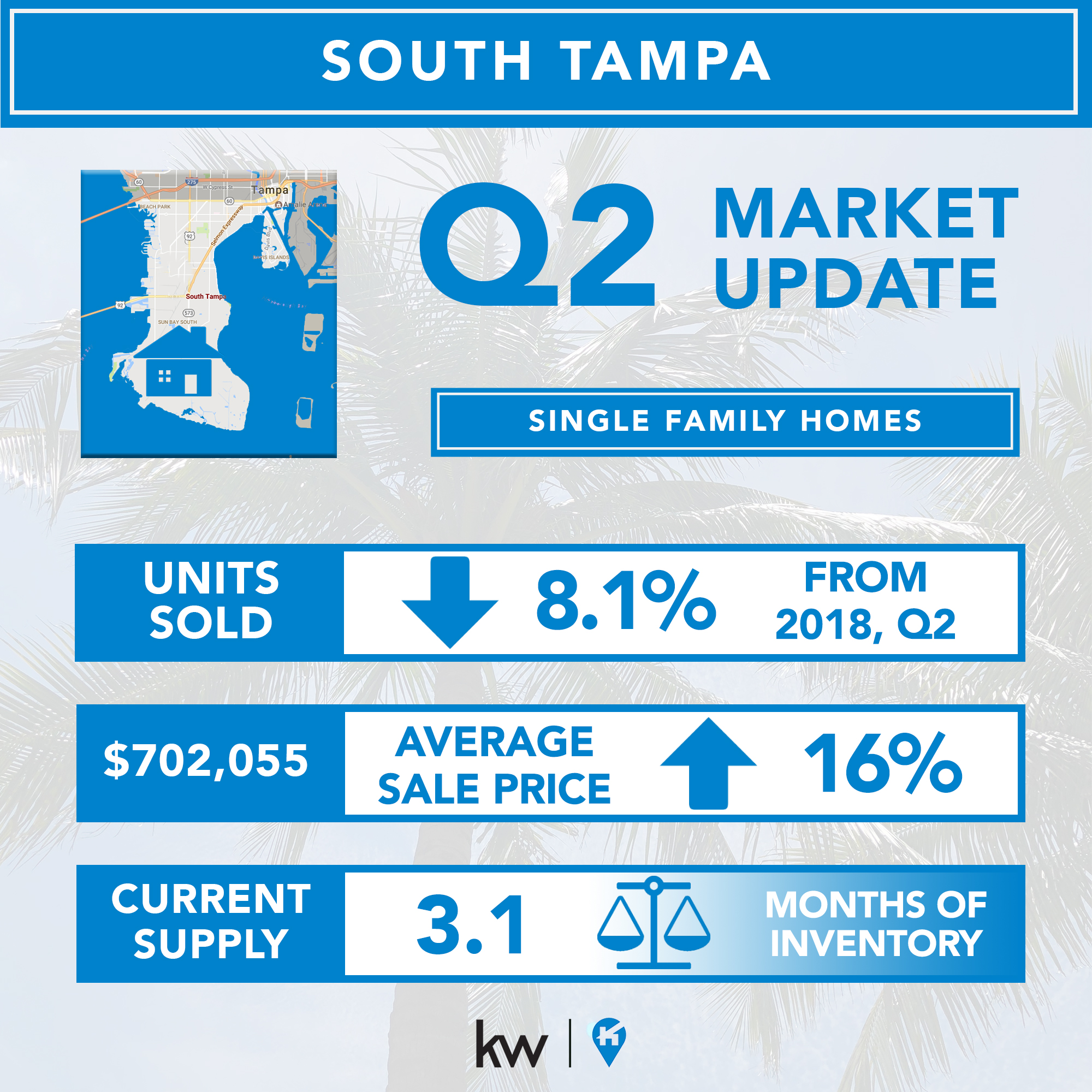 South Tampa – Real Estate Market Update; 2019 Q2
There's a much different story with the real estate data for South Tampa compared to Hillsborough County. The volume of units sold was way down by 8.1%, the average sale price was way up by 16%, and the current months of inventory are about the same compared to Q2 of 2018. Before you ask yourself, "Is my home worth 16% more now than it was worth last year?!" or "will I have to pay 16% more now than if I had purchased last year"?! The short answer is "No" and here is why…
Looking at the past sales by price ranges, you will see that there were about 25% fewer homes sold in the price range under $250,000 and about 17% fewer sold in the $250,000 to $450,000 price range. Simultaneously, the price range that had the largest increase in units sold was $1,000,000 and over. (see spreadsheet below). The average sale price per square foot increased at a normal rate for most price ranges.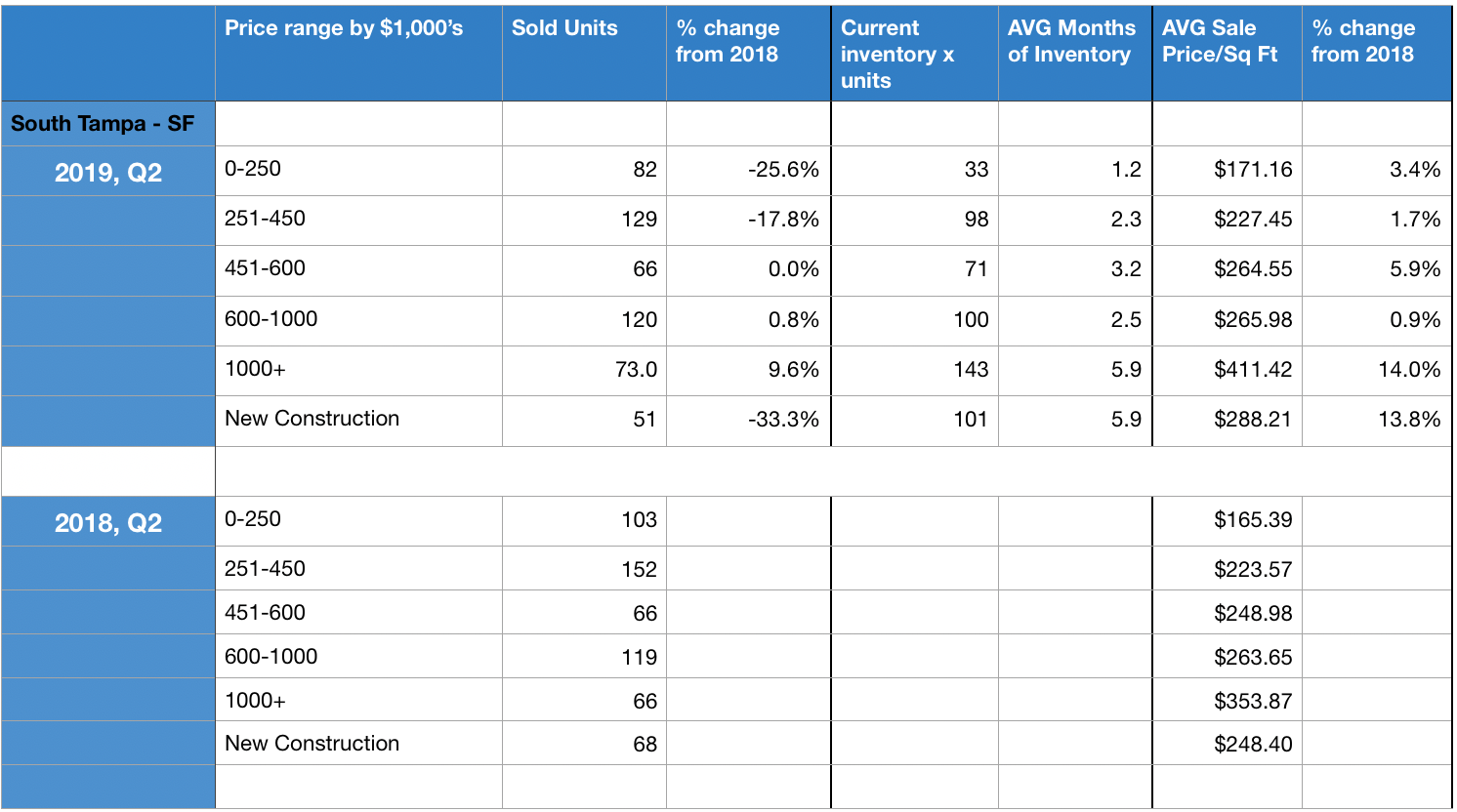 Summary
There's currently very little inventory in the lower price range of single-family homes. There is a healthy demand and market for the high-end price ranged single-family homes. As specific as this looks, there are always submarkets performing differently than others. Consult with a real estate professional when considering making an offer on a home or selling a home.
Notes:
The second quarter is from April 1st to June 30th. Data was researched in CoreLogic via the Stellar MLS. This data does not include properties sold off-market or not on the MLS. For expert representation, call Kris Kennedy 813-947-3509 or contact us here.